Stuttgart
City:

Stuttgart

Country:

Germany

Population:

632 743

Location:

48.7754|8.1818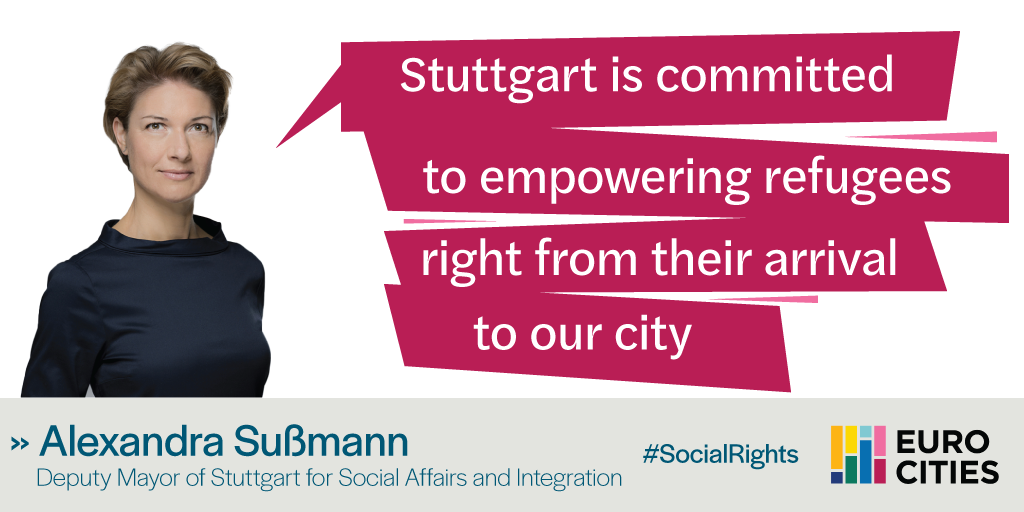 On 23 September 2020, Stuttgart signed a new pledge to principle 3 of the European Pillar of Social Rights, reaffirming its commitment to equal opportunities for all people with a focus on integration and inclusion of migrants and refugees.
Stuttgart has adopted its own integration model known as 'Stuttgart Pact for Integration' by which the city commits to:
Direct about € 77 million from municipal budget each year to social integration measures for supporting refugees in all areas of life from housing, access to childcare and schools, language courses, healthcare and cultural life, by working in partnership with welfare organisations.
Currently the city is hosting 6,000 refugees in decentralised accommodation in 100 housing units across 23 city districts
Support refugees to enter the local labour market through personalised counselling, vocational skills training, accompanying language learning by the Jobcenter Stuttgart which spent €195 million for these measures in 2015-2019, of which €50 million from municipal budget
Stuttgart's Deputy Mayor for Social Affairs and Integration, Alexandra Sußmann, said: "Stuttgart is committed to empowering refugees right from their arrival to our city so that they can contribute to actively take part in society with their competencies and potentials. Everyone that lives in Stuttgart is a Stuttgarter, no matter what passport, ethnical background or residence permit they have."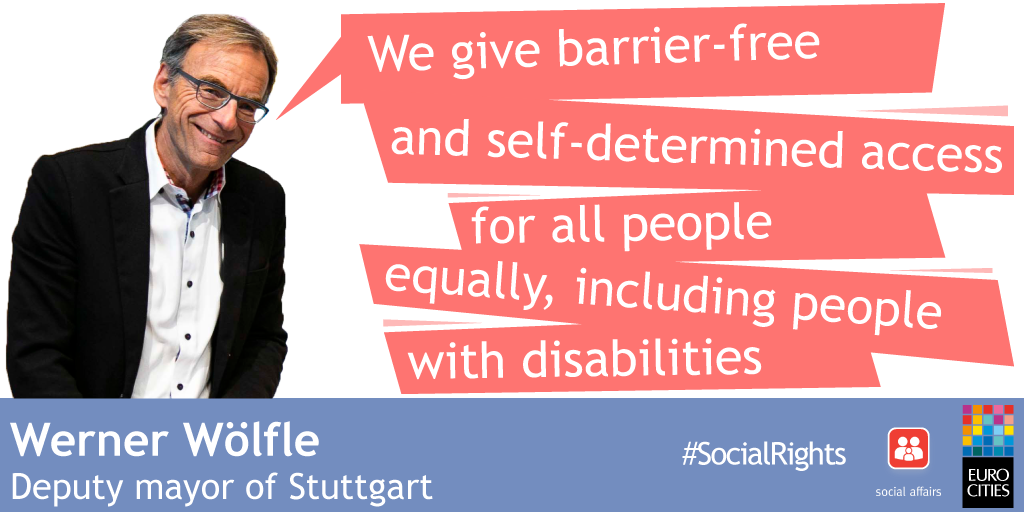 At the EUROCITIES Social Affairs Forum, held in Stuttgart on 23-24 October 2018, Stuttgart became the second city to commit to turn the principles of the European Pillar of Social Rights into concrete actions at local level. Stuttgart will invest €3 million a year to meet principle 17 on the inclusion of people with disabilities.
The participation of people with disabilities has been at the heart of the city council of Stuttgart for many years. In 2015, Stuttgart adopted an action plan to implement the Convention on the Rights of Persons with Disabilities, and agreed on guiding principles to make processes, structures and services accessible to all, including people with disabilities. Over the next years, the city will invest over €3 million into measures for the inclusion of people with disabilities:
€1 million in suitable housing for disabled persons and seniors.
€110,000 each year on equal participation in recreational, sports and cultural activities.
€1 million in barrier-free mobilities.
€860,000 in inclusion in schools.
€53,000 each year to promote political participation of people with disabilities
Create new jobs to employ people with disabilities
As a first step, the city council appointed an officer for people with disabilities.
Stuttgart's deputy mayor for social affairs and integration, Mr. Werner Wölfle, announced the pledge in the opening of the EUROCITIES Social Affairs Forum. He said: "A stronger social Europe is an inclusive Europe. Social rights should be guaranteed for all people in the EU in order to consolidate a united Europe. An inclusive Europe has the objective of one open society that addresses the needs of all people. In Stuttgart, we strive for barrier-free and self-determined access for all people equally, including people with disabilities. We believe all citizens, independent of their disability or their age, ethnic origin, gender, religion, sexual orientation or ideology, have the right to timely and individual support to achieve full participation in society. For this reason, Stuttgart promotes principle 17 of the European Pillar of Social Rights. We will continue our budgetary and investment efforts over the next years and introduce further inclusion programmes focusing on people with disabilities. Through our efforts at local level, we will support the European, national and regional strategies".