Ljubljana
City:

Ljubljana

Country:

Slovenia

Population:

288 919

Location:

46.0565|14.5081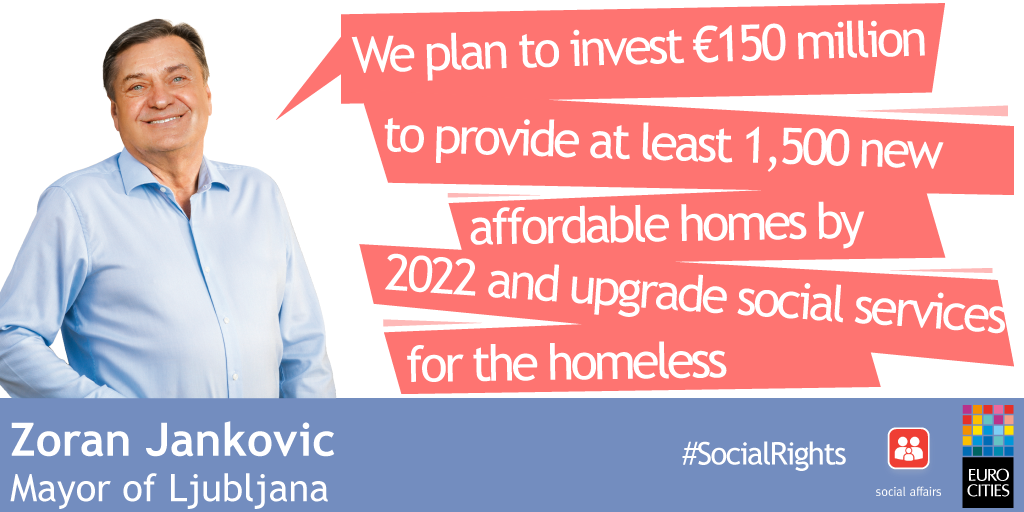 In the past two years, Ljubljana has signed three strong pledges to the European Pillar of Social Rights. On 18 November 2018, Ljubljana became the fourth city to commit to the EPSR, as Mayor Zoran Jankovic signed a pledge to principle 16 'healthcare' and principle 19 'housing and assistance for the homeless'. Then, on 11 June 2019, ahead of the EUROCITIES Urban Ageing and Barrier Free Cities joint working group meeting, Ljubljana reaffirmed its commitment to the inclusion of people with disabilities (principle 17 EPSR). Recently, on 24 August 2020, Ljubljana pledged to gender equality (principle 2 EPSR), work-life balance (principle 9 EPSR) and equal opportunities (principle 3).
On healthcare, Ljubljana is committed to:
Invest €29 million in 2018-2022 in the renovation of health centres and purchase of high-quality healthcare equipment (in addition to the €32 million invested in 2007-2017).
Continue providing high-quality and optimal access to primary healthcare services in 11 locations in the city with over 2.7 million patient visits a year
On housing, Ljubljana is committed to:
Invest €150 million in 2018-2022 to provide 1,500 new homes (not-for-profit residential units) in addition to the existing stock of 3,671 homes rented to people via public tenders, and the 436 housing properties for families at risk of homelessness.
Invest €3 million to rebuild the homeless shelter.
Upgrade social services for the most vulnerable people and long-term homeless people.
Ljubljana takes the approach of mainstreaming the inclusion of people with disabilities across all city relevant policy areas.
In education, Ljubljana:
Offers special education and tutoring programmes in the pre-school and school environment, together with a broad range of support services for pupils with intellectual disabilities under the umbrella of a special education centre.
The city allocates around € 2.5 million annually for inclusion of children and adolescents with disabilities, while additional € 28.2 million are earmarked from the city's budget for renovations and rehabilitation of public kindergartens and primary schools in 2019.
In employment:
The city administration leads by example by strictly following and regularly exceeding the national quota for employment of persons with disabilities.
At the level of other employers, the city works on the integration of persons with disabilities in the labour market by supporting and co-financing Slovenia's active employment policy programmes.
In housing, Ljubljana:
Pursues a unique policy with specially adapted non-profit rental housing available to adults with disabilities.
The municipal housing fund is expected to provide an additional 1,500 non-profit rental housing units by 2022 with at least 10% adaptable for disabled persons in accordance with the principle of universal design, ensuring an accessible and barrier-free living environment.
For personal assistance and independent living, The City of Ljubljana:
Co-finances assistance programmes for the elderly and for persons with disabilities.
Ljubljana earmarks over EUR 10 million from its annual budget for various forms of assistance with additional € 400,000 reserved for organisations of disabled persons and other non-governmental organisations for social inclusion programmes.
On gender equality, Ljubljana is committed to:
Apply gender mainstreaming in all municipal policies and services. To achieve this, the city has put in place a Gender Equality Group with representatives from across the city administration and has appointed a coordinator for equal opportunities.
Improve gender equality policies both in the city administration as employer and in the city at large. To achieve this, Ljubljana set out a second action plan for Gender Equality for 2019-2022, learning from the lessons of the first action plan implemented during 2016-2019.
Raise awareness and educate citizens, from a young age, to overcome traditional social roles and encourage women and men to take up jobs in all types of professions.
Ensure balanced representation of women and men in political and public life as well as in management positions.
Fight gender violence by supporting victims through counselling, sheltering, crisis management
On work-life balance, Ljubljana is committed to:
Continue investing in subsidised and accessible childcare to ensure all children get a place in kindergarten.
Continue the high-quality scheme of parental rights and cash benefits.
Continue co-financing programmes of NGOs to provide holiday care, after-school and leisure activities, including sports and cultural activities that promote inclusion and participation of all children.
On equal opportunities, Ljubljana is committed to:
Implement equality policies in line with the Diversity Charter.
Train staff in the city administration on non-discrimination and respect for diversity and raise awareness of the city leadership.
Ensure the social inclusion and protection from poverty of the most vulnerable groups through implementing two action plans for 'Ljubljana, a Friendly City for the Elderly' and 'Ljubljana, a Friendly City for the Disabled'.
Continue co-financing 80 programmes and services per year to provide support to the most vulnerable through housing support, day centres, counselling and municipal income support.
Mayor Zoran Jankovic stated: ''A strong social Europe means that it is inclusive for all. Ljubljana is a city where we respect diversity and live together. Ljubljana is a social city that promotes social inclusion and human dignity. Through numerous programmes, services and activities, we strive for social equality, solidarity and openness. To that end, we pay special attentions to vulnerable groups''.