Zagreb
City:

Zagreb

Country:

Croatia

Population:

812 635

Location:

45.49|15.57596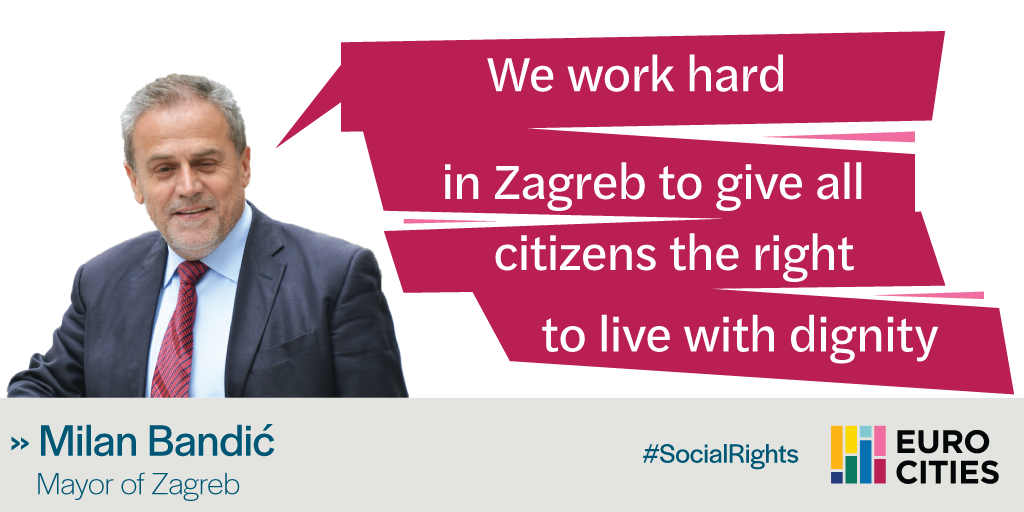 On 16 October 2019, Zagreb became the twenty-seven city to sign a pledge to the EU Pillar of Social Rights. Milan Bandic, the Mayor of Zagreb signed a pledge to principle 3 "Equal opportunity" and to principle 16 "Healthcare".
On principle 3, Zagreb is supporting policies and programmes promoting human rights by:
Co-financing the Law Clinic of Faculty, offering legal help to vulnerable person who are facing difficulties in exercising its legal rights.
Ensuring the rights for members of national minorities to be elected.
Supporting the activities of 35 religious' communities.
On principle 16, Zagreb is working with health care institutions and patient associations:
To implement several free programmes budgeted of 500.000,00 EUR yearly such as "Preventive mobile mammography for women over 40", "Prevention of cervical cancer", "Programme for Promoting Breastfeeding Practices".
To become the first Croatian dementia-friendly city, acting for a better life for its dementia patients.
The Mayor stated that "The City of Zagreb is convinced that the aforementioned principles will contribute to enable all citizens of Europe to live a life of human dignity".
In February 2021, Zagreb reinforced its strong commitment to the European Pillar of Social Rights (EPSR) with a new pledge to Principle 1 (education and lifelong learning) and Principle 11 (childcare and support to children.
For Zagreb, children and young people are the foundation of the future society, and all local efforts should be put into realising their potential and contributing to their development. On Principle 1, Zagreb:
Is committed to making lifelong education accessible, regardless of gender, religion or socioeconomic status, as is the basis for local and national development.
Co-finances preschool education programmes and meals in primary schools, trains teaching staff to tend to the needs of students with disabilities, provides students with textbooks and educational materials and pays special attention to children belonging to national minorities.
Offers scholarships for students from disadvantaged backgrounds
Invests in opportunities for young people through the Zagreb Innovation Centre ZICER.
On Principle 11, Zagreb:
Implements measures targeting families and children, such as the provision of food packages and hygiene supplies for larger families, financial assistance to recent parents or public transportation for students from disadvantaged backgrounds. It also ensures that all children can get a present for Easter and St. Nicholas' day.
Funds child and youth care programmes that aim to protect children's rights, promote families' capacity-building, and offer sports, cultural and leisure activities.
As Zagreb Mayor Milan Bandic states, 'Investing in the earliest and most vulnerable years of a child's life will have the result and will return as a long-term benefit to those same children and their families, as well as society itself'